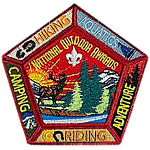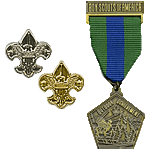 This program, conceived by the National Camping Task Force of the BSA, includes a series of five badges designed to recognize a Boy Scout or Varsity Scout who has exemplary knowledge and experience in high-level outdoor activities. Award consists of five emblem segments positioned around a beautiful center emblem. Segments represent five areas of emphasis: Riding, Hiking, Camping, Aquatics, and Adventure.

National Outdoor Awards Devices are additional achievements in any of the five areas that can be recognized by placing a gold or silver device on the appropriate activity segment.

National Medal for Outdoor Achievement is the highest recognition that a Boy Scout or Varsity Scout can earn for exemplary achievement, experience, and skill in multiple areas of outdoor endeavor.